The Voice of Slovak Business proudly presents the Automotive Supply Chain Roadshow 2017 in Birmingham, March 20th-21st

Day one: March 20th
This eagerly anticipated event had been in the making since the end of 2016, following on from many back to back successful events in the Slovak Republic on the Automotive Sector that The Voice of Slovak Business and Managing Director Mr Christopher Plant had been involved in. Mr Plant and the team enlisted key speakers from Jaguar Land Rover,
Mr Graham Thompsett and Mr Les Ratcliffe and a plethora of Headline and Strategic Partners. There was a very strong delegation from the Slovak Republic including Headline Partner Grant Thornton who kindly provided the venue and two key speakers,
Mr Wilfred Serles, Managing Partner of the Slovak office and Mr Charles JD Toosey, Associate Director of the UK office and our host Mr David Hillan, Tax Partner and Practice Leader of the Birmingham office who welcomed His Excellency Lubomir Rehak, Ambassador of the Slovak Republic to the UK and our Headline and Strategic Partners and the British business guests.
The two day event got underway after an early breakfast networking session with Mr Plant warmly welcoming the audience of British automotive companies that had all turned up to learn more about OEMs in Slovakia and market opportunity as well as hearing about key aspects of the Slovak economy its HR, finance, tax and the massive potential business opportunities.
The roadshow would provide a generous helping of information and news from leading experts in the field of Automotive from Slovakia and also from British Business with firsthand experience of the Slovak Market.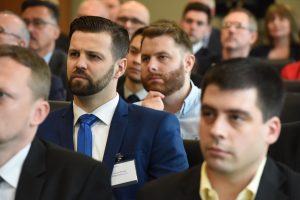 PART 1: THE SLOVAK AUTOMOTIVE MARKET – Introduction to the Slovak Automotive Sector
The official Opening & Welcome was provided by guest of honour, Ambassador of the Slovak Republic to the United Kingdom, Ambassador Lubomir Rehak.
Mr Plant introduced the Ambassador with his biography which included, his first 5-year diplomatic in Moscow, then 4 years to the Embassy at Lisbon and in Belarus as Chargé d´affaires at the Embassy at Minsk. He then moved to Brussels as Ambassador – Representative of Slovakia to the EU Political and Security Committee. In Bratislava he was appointed a Political Director of the Ministry of Foreign Affairs In 2011, the President of the Slovak Republic appointed him as Ambassador Extraordinary and Plenipotentiary of the Slovak Republic to the Republic of Kazakhstan and the Kyrgyz Republic. In October 2012
he was again appointed a Political Director (Director- General for Political Affairs) at the Ministry of Foreign and European Affairs of the Slovak Republic in Bratislava. In 2015, the President of Slovakia appointed him as Ambassador Extraordinary and Plenipotentiary of the Slovak Republic to the Court of St. James´s (Royal Court for the Sovereign of the United Kingdom of Great Britain and Northern Ireland) and he arrived in London on 10 August 2015.
His Excellency Lubomir Rehak, Ambassador of the Slovak Republic to the UK, highlighted his country's political stability, transparent economic rules, predictable legal environment and stable currency. He told the audience that he was proud of the Automotive Sector in Slovakia and that having such a fantastic investment from JLR in the country was by far one of the most exciting things to happen in Slovakia in the last years. Slovakia carries on a heritage of automotive which began at the very start of world automotive.
Mr Plant thanked Ambassador Rehak and Economic and Commercial Attaché for United Kingdom, Ms Dominika Bartosova for their continued and full support and for opening the Roadshow and for coming from London that morning to attend.
Mr Plant introduced the Host, Mr David Hillan, Tax Partner and Practice Leader, Grant Thornton UK and he went on to say, "This gentleman has many years of experience in dealing with all tax-related areas within our Headline Partner Grant Thornton with responsibility for the Birmingham office, as office Managing Partner, he also heads up the Birmingham tax team, where he provides corporate tax services to a range of organisations from start-ups to large multinationals. His specialism covers both UK and international tax and advice on structuring, profit extraction and corporate deals.
Mr Hillan was invited to say a few words, in which he introduced his fabulous team and premises and also thanked all the guests and speakers for making what he hoped at the time would be a very successful event. Mr Plant thanked David and his team who had been a massive support in the preparation of the Roadshow.
The first speaker was then invited to begin with the Opening Plenary Session and Keynote Speech. Headline Partner and Managing Partner of Grant Thornton, Slovakia, Dr Wilfried Serles, who specialises in advising international companies took to the fore.
Dr Serles has extensive experience in consulting for international large and medium-sized companies in various business sectors, such as Real Estate (including consulting regarding the development of the largest Slovak trading and retail trade centres), the IT and automotive industry, as well as financial services. He is known for his expertise in the field of tax and corporate law. Dr Serles specialises in advising international companies.
Mr Plant mentioned that Dr Serles was a very much sought-after partner for discussions in connection to topical tax issues and that The Voice of Slovak Business was very happy to have him today for the opening plenary session and keynote speech – He welcomed the Headline Partner with his presentation entitled: Slovakia and its position in Central and Eastern Europe. A key force in Business. Dr Serles showed a very keen interest and very close relationship that he has with Slovakia, as an Austrian there is no higher praise for "the most outstanding country in central and eastern Europe."  He went on to give us a very informative and interesting overview of the country.
Following Dr Serles was automotive expert, Mr Milan Gavlak, Head of Strategic Projects at SARIO, the governmental agency under the Ministry of Economy, dealing with concrete investment projects from the phase of "acquisition" until "execution".
Mr Plant introduced Mr Gavlak as a gentleman that began his career at KIA in Slovakia, as first local employee. For nearly 4 years delivered services from the very start of one of the largest green field investments in Slovakia to commencement of mass production directly to top management and took part in major negotiations with GOV and local authorities. Later he worked for a local consultancy firm and delivered services to several foreign investors, provided legal and investment advisory to municipalities in the process of establishment of industrial zones.
Mr Gavlak then began his presentation on the key facts of the Automotive sector in Slovakia, an introduction to car production and the Slovak Republic in which the audience received a very full and clear picture of the OEM set up and Tier one companies that are located within Slovakia and the fact that Slovakia is the world's largest car producing country per capita.
Mr Plant thanked Mr Gavlak for his expert thoughts in Automotive and he said that "This has given you (the Audience) a very good overview of what Slovakia is all about and what sort opportunity waits".
The second headline partner the Tatra banka would go on to give a Macroeconomic overview of the Slovak Republic. Mr Plant stated that "Our Macroeconomic expert today has been working within Tatra banka as an Economist for more than 10 years. Before, he worked at the same position at the Ministry of Finance of the Slovak Republic for several years. He is member of scientific council of Faculty of Mathematics, Physics and Informatics in Bratislava. A pretty clever chap indeed! He then welcomed with Macroeconomics and banking sector in Slovakia, Senior Economic Analyst from the Tatra banka,
Mr Juraj Valachy.
After a very accurate and informative presentation Mr Valachy proceeded to introduce his colleagues, Ms Zuzana Kostialova, Head of Large Corporate Clients Division and Mr Dominique Bernard, Senior RM for International Corporate Clients who were also attending for the duration of the event.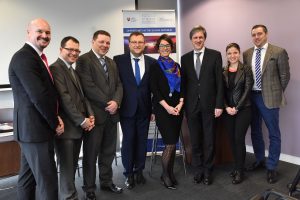 This macroeconomic presentation drew to a close Part 1 and the introduction of Slovakia and the automotive market, guests were asked to take part in a networking coffee break provided by Headline Partner Grant Thornton.
Mr Plant welcomed back the Ladies and Gentlemen of the audience with an introduction to the next part:
PART 2: THE SLOVAK AUTOMOTIVE MARKET – Opportunity within the Slovak Automotive Sector.
He continued and introduced the first guest and said "With an automotive vision of Slovakia, I am delighted to welcome a most experienced senior executive from Jaguar Land Rover". Then with a presentation on The Automotive Recruitment Vision, Head of Talent Acquisition, Jaguar Land Rover, Mr Graham Thompsett began.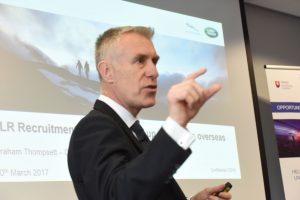 Mr Thompsett is currently working as Head of Talent Acquisition globally for Jaguar Land Rover based in Warwickshire in the United Kingdom. In this role Graham is responsible for Future Talent (Grads/Under Grads & Apprentices), and all experienced hiring as well as Executive Hiring. He spent 9 years in China carrying out three distinct projects for both Jaguar Land Rover and Ford Motor Company. In 2009 Graham became Head of HR for Jaguar Land Rover in China.
Mr Plant thanked Mr Thompsett for a very dynamic presentation. The presentation captured the true "JLR" emotion very nicely. Mr Plant said "Thank you very much to Graham for supporting the event and then went on to say that we are very honoured today to have not one but two fantastic guests from Jaguar Land Rover."
The next guest, Mr Les Ratcliffe, MBE, Head of Community Relations, Jaguar Land Rover, joined Jaguar in 1973. In 1998 he was appointed to a new position within the Company as Manager Community Relations within the Communications and Public Affairs function and was responsible for the introduction of a Community Relations Strategy into Jaguar, later to become Head of Community Relations Jaguar Land Rover.
A key element of Les' role is delivering a Community Relations Strategy that supports investment into charitable giving, Education development, Volunteering and Community Cohesion. This has now been developed into a Global Community CSR programme that Les delivers including Brazil and more recently Slovakia where JLR are constructing new Manufacturing facilities.
After Mr Ratcliffe's presentation Mr Plant said a few words to thank JLR for their support and also the fine speakers, he also mentioned that Mr Ratcliffe would be presenting more the next day and would be available with a colleague from the JLR purchasing team for the afternoon b2b sessions.
Moving on in Part 2, Mr Plant introduced the audience to the next prominent speaker from our Headline Partner Grant Thornton, on the subject of key drivers in the future of manufacturing & automotive supply chains, Associate Director from Grant Thornton UK, Mr Charles JD Toosey.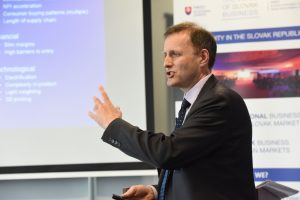 Mr Toosey is an Authority on Automotive. He leads the automotive advisory division of Grant Thornton in the UK. Prior to joining Grant Thornton, he worked for 25 years in the automotive industry for General Motors and Saab. Formerly the Global Sales and Marketing Director for Orio AB, and prior to this Managing Director of Saab Great Britain Ltd, he and the Automotive advisory team work in both the supply chain and the distribution network of original equipment manufacturers advising on factors affecting profitability, working capital and efficiency in manufacturing as well as market trends.
Mr Plant thanked again Mr Toosey and Headline partner for providing such excellent content and then proceeded to welcome with "The Logistics revolution from Slovakia", from the company CEIT, CEO and Chairman of the Board, Mr Boris Dula.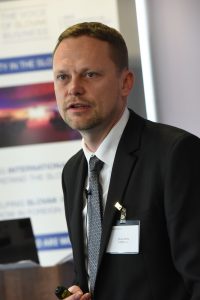 Mr Dula worked in Germany in European Development Centre of a renowned manufacturer for major appliances. In 2014 he became an executive manager in one of the CEIT subsidiaries and then in January 2016 he became a member of the Board of Directors in CEIT. In December of the same year he was appointed as the Chairman of the Board.
CEIT is a very well known company in Slovakia and very innovative. It has its own unique concept of intelligent logistics systems for Smart Factories, a connection to a real, digital and virtual factory. The presentation illustrated the technology of CEIT and some of the new innovations that the company is working on.
Mr Plant thanked CEIT and Mr Dula for a very in depth perspective on Automotive innovation and then with the same theme in mind he introduced another top speaker with a background in Innovation, Agile software development and SLA-based service delivery, who has helped many companies successfully realise the business benefits of technology.
Mr Plant said "Please welcome with an Automotive Case Study by Ness KDC, the General Manager of Europe for Ness Digital Engineering, Mr Pete Rogers. Mr Rogers has worked closely with organisations across 15 countries in sectors including Digital Media, Automotive, Broadcasting, Financial Services and Telecoms."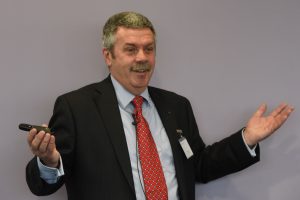 After Mr Rogers' very informative presentation it was time for the networking lunch session which was jam packed with individual meetings. The networking buffet lunch was provided by Headline Partner, Grant Thornton.
Immediately after lunch Mr Plant welcomed back our audience to the afternoon session where British Business case studies would be outlined:
PART 3: THE SLOVAK AUTOMOTIVE MARKET – British Business case studies in /coming to Slovakia
First though it was time for the introduction the first panel discussion with Automotive Experts from Slovakia. The panellists took their places in front of the audience where Mr Plant introduced each guest one by one. Including the first female presenter of the day, Tatra banka's Ms Zuzana Kostialova, Head of Large Corporate Clients Division. Ms Kostialova worked in the banking sector for over 20 years. She managed the Large Corporate Clients Division and helped place Tatra banka as the number one corporate bank in Slovakia.
Mr Plant welcomed all of the other panellists, who had already presented in the morning session. Mr Les Ratcliffe, MBE, Head of Community Relations, Jaguar Land Rover. Mr Wilfried Serles, Managing Partner, Grant Thornton, Slovakia. Mr Boris Dula, CEO and Chairman of the Board, CEIT. Mr Pete Rogers, General Manager Europe, Ness Digital Engineering and finally Mr Milan Gavlak, Head of Strategic Projects, Slovak Investment
& Trade Development Agency (SARIO).
The Voice of Slovak Business, Managing Director Mr Christopher Plant, asked each of our panellists a variety of questions ranging from, what Slovakia has to offer and the opportunities to how banks and financing help our audience. The panel spoke about the quality of Slovak companies and we understood what challenges business might face wanting to expand operations to Slovakia. We heard information on state aid and incentives in Slovakia and we discussed the increasing interest in the human resources market in the Slovak Republic as it seems that this was a concern to many companies attending.
We heard what is special about Slovakia and how banks support investors into the Slovak market, typically in Automotive. We understood what was on offer to British business and how companies such as Ness and CEIT work very closely with Universities. We heard how young people in Slovakia were really pursued and helped develop as the future for companies and why keeping young, educated people in Central Europe was so important.
We looked at British Business and what opportunity the panellists could see in Slovakia for a British Company that is looking for new business. We heard how the Supply chain in Slovakia is very established and Automotive is very successful sector for the country however we know that there is still space for new companies to find a niche.
Mr Plant thanked the panellists for their time and for answering the questions in such a positive manner and that he was pleased that the audience would receive such an honest overview of the opportunities and Slovakia in general.
The Event then broke for a coffee break and networking, for 20 minutes. On returning Mr Plant welcomed everyone back, to continue with Part 3, Automotive Experts in Slovakia.
Mr Plant then announced our next guest who he said has had a very colorful career so far and has travelled immensely in his position, he was appointed Divisional Managing Director at Senior Plc and then Aalberts NV of Holland and was responsible for UK and Spanish businesses before he eventually joined Aktrion 13 years ago in 2004. In that time, Aktrion has trebled turnover to €100m and expanded into new sectors and in Automotive has grown to become a genuine global service provider. Aktrion opened operations in Slovakia 12 years ago. Speaking about British experience and development in Slovakia from the Aktrion Group, Group Managing Director, Mr Chris Baumann.
Mr Baumann talked about the positives of doing business in Slovakia, echoing what he had heard in the earlier Panel of experts and how straight forward it was compared to many other central and eastern European countries where Aktrion also have business set up.
Once the presentation was complete Mr Plant thanked Mr Baumann for his continued support and then mentioned that the theme would now turn toward logistics and the next guest who brings with him many years of Automotive leasing, rental and fleet management experience. Not only in the UK but also internationally and has successfully worked with motor manufacturers, leasing companies and Tier 1 finance houses in Europe, the Middle East, USA and China. He asked the audience to welcome, Key Account Manager for GEFCO UK, Mr Damian Williams speaking about global and international logistics for manufactures.
After Mr Williams thanked Mr Plant for the opportunity to present and then Mr Plant introduced the last presentation for the day, which came from a company based in the east of Slovakia, the second largest city, Kosice.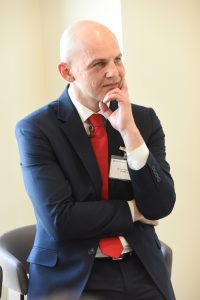 Mr Marian Christenko, the CEO of KOSIT, previously CEO for VOITH Industrial Services, Slovakia, looks after waste management services for the city of Kosice. He was accompanied by his colleague Executive Manager of KOSIT West, Ms Katarina Mandalova.
KOSIT presented their concept for waste management and how Slovakia coped with waste in comparison with other European countries. The presentation was interesting not only to understand about the management of waste but also how it effects automotive.
Mr Plant thanked KOSIT and then instructed our audience that they would be able to meet the entire Headline and Strategic Partners in our b2b sessions that would be followed by an opportunity for fellow delegates to have informal discussions over drinks and canapés at our after event drinks reception provided by Headline Partner Grant Thornton.
This was the perfect end to day one and many of the partners and customers enjoyed a night in the city at a local British Pub before meeting again the following day bright and early for our final day's session.