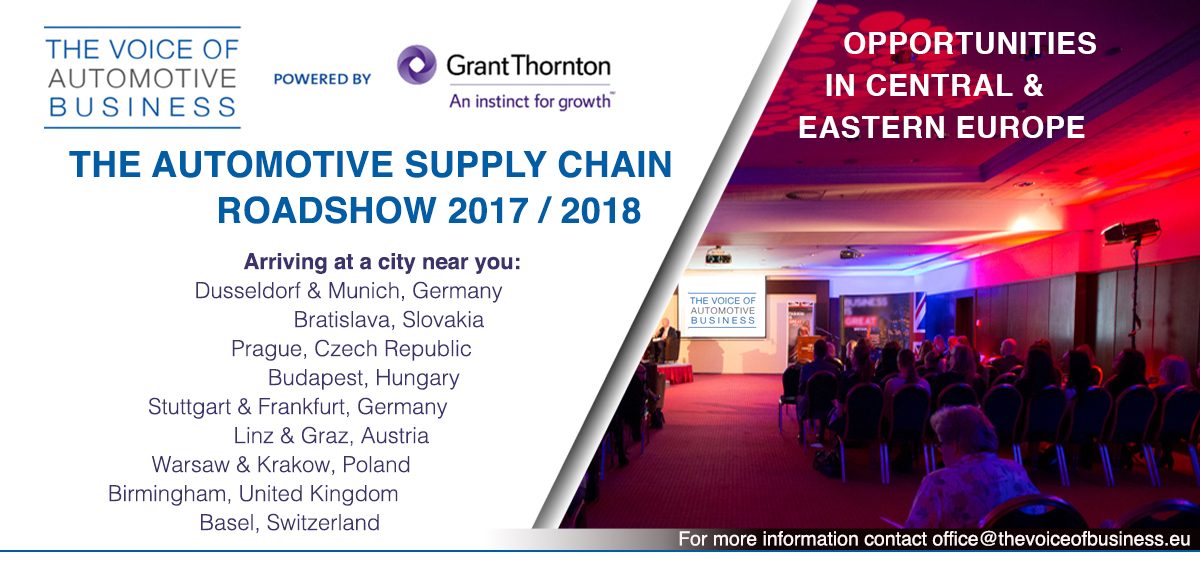 We are proud to announce that the next destination for THE AUTOMOTIVE SUPPLY CHAIN ROADSHOW 2017 / 18, Opportunity in Central & Eastern Europe.
Following on from our very successful roadshow in Birmingham, UK. We are on the road again and will be visiting you soon.
Next Dates 2017:
Arriving in Dusseldorf, Germany, November 28th


Then coming to you in Munich, Germany, November 30th
Key Speakers in Automotive
Meet the Automotive Supply Chain
Learn about expand your business in the CEE
Hear about what opportunity in automotive is in the CEE
Automotive OEM growth and development across the region
The future of the supply chain market
How to optimise costs, tax, and understand the state aid incentives
 Automotive Agenda Topics
Opening Plenary Session: Keynote Speech:
The key facts of the Automotive sector CEE
Macro economics of the CEE
The Automotive Recruitment Vision
The role of CSR in Automotive and the community
The Logistics revolution
Hear directly about Automotive Case Studies from the CEE
Expert Panel Discussion
A panel of Automotive experts will discuss opportunities in the CEE and you will be able to hear from the key speakers in the Automotive Forum. Listen to case studies from automotive companies and understand first hand their experience.
B2B Meetings
Take part in B2B Meetings with suppliers and potential customers. Introduce your company to our Automotive professionals. Join us for special networking sessions and our after event drinks reception to end the day.
The Voice of Automotive Business
Delivering award winning networking business & communications strategies.
Get in touch with us today: office@thevoiceofbusiness.eu
Coming soon to…
Bratislava, Slovakia
Prague, Czech Republic
Stuttgart & Frankfurt Germany
Linz & Graz, Austria
Warsaw & Krakow, Poland
Basel, Switzerland
Budapest, Hungary
Birmingham, United Kingdom